Take to water on our brand new hand-powered paddle boats! Fun for all the family, you'll need plenty of energy to keep going for your 10 minute session!
£3 per boat, for a 10 minute session.
Please note: This attraction may need to close without warning due to inclement weather, maintenance, or for circumstances beyond our control.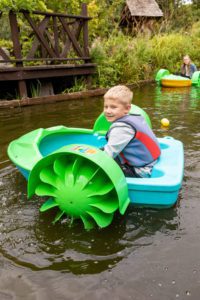 Important Safety Information
For safety reasons, no children under 3 years old are permitted on the paddle boats
Maximum 1 person per boat
Buoyancy aides must be worn by all under 16's when on the boats
The paddle boats are operated by trained staff members at all times, however, children remain the responsibility of accompanying adults on the following ratios:

3-11 years old: Adult must be present on the viewing deck at all times
12-16 years old:  An adult must be present on site at all times
For your own safety, the following conditions mean you will be unable to participate:
If you are pregnant
If you have a heart condition
If you have a back or neck injury
Please advise a member of staff if you have a medical condition.
Play Safe, Stay Safe - some simple Do's & Don'ts
Secure footwear is preferred to ensure getting on/off the boats is safe and non-slippery
No bags are permitted on the boats so please kindly ensure your bag or any loose belongings are left with a family member or friend who is not participating
No eating or drinking is permitted on the boats
No horse play is permitted on the boats
Please follow the instructions of the trained member of staff on duty at all times and feel free to call our 'Instructor' should you require any assistance.